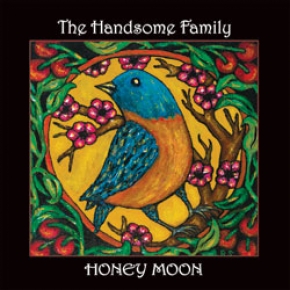 Taking place under bowed branches and deep within winding corn mazes, The Handsome Family's eighth studio release celebrates the duo's twentieth year of marriage with a series of love songs that sharply contrast the dark themes of their previous seven releases. Full of an awed sense of emotion in the face of nature's mysteries, Brett Sparks (music) and Rennie Sparks (lyrics) branch from their usual canon of the dark and mysterious on Honey Moon, to establish a theme rooted in the tradition of 19th century romanticism. For the first time there is no body count. Not one person dies. There is only one song about a lost love. It is an album of transcendence, of touching the divine, if only for a moment, through our love of someone else, even if he is a katydid.
Rennie says of the pivotal point that influenced her writing on Honey Moon, "We were driving over some mountains in New Zealand listening to The Platters singing "Twilight Time," and I could actually feel that gorgeous song healing little wounds all through my body. Life felt almost unbearably bittersweet after the song ended and I felt I had no choice except to sit down and try to write my way back into that mysterious palace where 'heavenly shades of night are falling.'" Fans of vocal groups like the Mills Brothers, The Inkspots, and The Platters for many years, Brett and Rennie's 'song' as a young couple was, "My Prayer." The Sparks also have a profound love for the beautiful songs of great American songwriters like Berlin, Gershwin, and Porter who treat the subject of love with grace and transcendence. Theirs are songs of human beings making contact with the numinous. Their melodies and words are the finest examples of songwriting: mysterious and sublime.
The prospect of composing an album of love songs and avoiding triteness is fraught with peril. Brett explains, "Since we decided that all the songs would address the same theme (love), I decided that musically each one should be distinct to avoid the pitfalls of other records of this ilk. Each song should be its own world, have its own style. So it's a record of 12 self-contained entities. There are tin-pan alley songs, country songs, r & b songs, a bluegrass song, pop songs, jazz songs, and even rock ballads. This record represents a concerted attempt to flex all of our songwriting muscles. Honey Moon is more musically and technically complex than anything I have ever done. I fell in love with the studio anew." Recording all their songs in a converted garage studio at the back of their Albuquerque house, Honey Moon is a headphone record with layer upon layer of cool weird treasures waiting to be discovered with successive listens.
The twosome's seventh CD, Last Days of Wonder (June 2006), was one of Mojo's Top Ten American Albums for 2006 and was called "an unqualified triumph" by Uncut. Their songs have been covered by many artists, most notably: Andrew Bird, Christy Moore, The Sadies, Sally Timms and Cerys Matthews.
There's a burnt beauty to Honey Moon – something akin to Mark Twain re-written by Edgar Allan Poe – that exerts a deliciously morbid pull on the imagination and the emotions. Satisfaction is guaranteed. - BBC