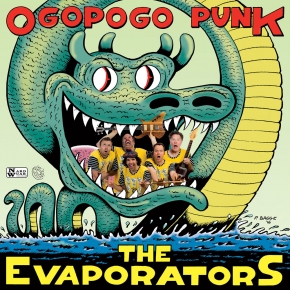 VANCOUVER, BC – From the depths of the uncharted wilderness (or is it "wildness"?), Nardwuar the Human Serviette, John Collins, Stephen Hamm, Nick Thomas and Shawn Mrazek, known hereafter as The Evaporators, release 8 new songs in the form of a digital download and coloured vinyl LP, titled Ogopogo Punk!
The Evaporators sing about a lot of things on Ogopogo Punk including: shaving, mohawks & dreadlocks, eating to win, the mythical landlocked BC monster the Ogopogo, Skagit Valley's Chuckanut Drive and a whole lot more!
Over the past decade The Evaporators have graced stages / halls / living rooms with everyone from Anal Mucus to Sleater-Kinney to the Whack Attack Puppet Show.
Ogopogo Punk features a cover drawn specifically by cartoonist Peter Bagge (Hate, Neat Stuff) plus full liner notes and, yes, Brother Ali even contributes the last track, giving an ode to the writer of this here ditty, me, Nardwuar. What the hell? Let's turn the reins over to him:
"I've had the pleasure of being interviewed and featured in some of the most incredible publications but the most entertaining and interesting interview i've ever had was with the one and only Nardwuar. During our interview he gave me the original program to a Muhammad Ali exhibition fight in Vancouver and several records. First thing I did when I got home from the tour was listen through the records and make a beat from one of them. I ended up recording this song. Doot doola doot doo..."
Well gosh, "Doot doo," Brother Ali! I am honoured! Please keep onrawkin' in the free world!
Have a good midnite snack!
Nardwuar the Human Serviette
Radio CiTR fM 102
Vancouver, British Columbia, Canada