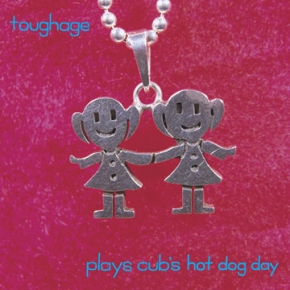 Hot dog! Just over two years old--yet older than everyone thinks--Tough Age are plain old happy to announce the arrival of "Plays cub's Hot Dog Day", their first Record Store Day release to a world in desperate need of a record covering a previously released record in full! Available only on (very-) watery-ketchup-coloured seven-inch vinyl, "Plays cub's Hot Dog Day" is a cover record devoted entirely to recreating the second set of six songs from Lisa, Robynn, and Valeria, recorded fresh after Tough Age's seventh or eighth tour. (No one stayed at home to write war memoirs or watch their new TV, but two members did move to Toronto afterwards.)
"Plays cub's Hot Dog Day" was recorded once again at Vancouver's The Family Christmas, this time in their permanent home there and not dragging gear back and forth from The Orphanage space down the hall. Wholly produced by Jay Arner with assistance from Jay Arner and Jay Arner, this little red biscuit features every member of Tough Age singing, taking on such gems as "My Chinchilla" ("Satan sucks, but you're divine."), "Nicolas Bragg" ("Sunflower, nightshade, seaweed, x-ray.") and of course a rolling rendition of Astrid Gilberto's "Summer Samba" minus horns to put things in perspective.
Let Tough Age invading cub's personal space invade your personal space! Please?