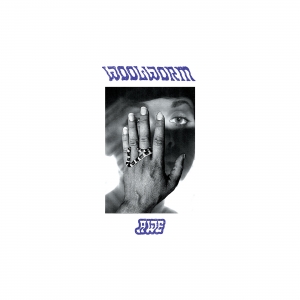 With their massive sonics and anthemic pop songwriting, Woolworm is an arena rock band that just so happens to perform in DIY venues. Their music, which somehow seamlessly combines shoegaze, Britpop, post-punk, hardcore and black-metal into an impossibly cohesive sound, is the sum of their parts. Heather Black pounds her bass like she's ripping a basement punk set before delivering sweet vocal harmonies straight out of the C86 compilation. Nick Tolliday pummels his drums with the reckless abandon of the hardcore scene that birthed the band. All the while, dual guitarists Alex Pomeroy and Giles Roy offer intricate, complex riff interplay as often as they stomp their pedals and break into hard-hitting power chords.
"People seem to be rightfully wary of rock in general," frontman Giles Roy says, admitting that his band's complicated genre blending is rooted in the familiar. "I like the underdog feeling." That scrappiness is self-evident, but make no mistake: Woolworm are anything but underdogs.
The band's third album Awe expands the band's already robust songbook even further by offering a new take on their heavy, hardcore-inflected indie pop sound. The band's bleakly fulfilling 2017 LP Deserve to Die saw them smashing their heads against the wall, meticulously planning every note before entering a real studio with venerable Vancouver producer Jesse Gander. This time around, they recorded with labelmate Jay Arner whenever the inspiration hit.
"Even though some of these songs date back to before Deserve To Die, we allowed ourselves to be spontaneous and open-minded here and took a collage approach to the overall record," Roy says of Awe. "We let it be scrappier and more diverse and less symmetrical."
The result is a collection of songs that are bristling with immediacy and, well, life. "Deserve To Die was a sort of exorcism, and this one's more of a meditation," Roy continues. "That one took so long to write and record that finally releasing it had a cathartic effect. But now we're done with death. For the foreseeable future, at least. This is more of a life record."
"Hold the Bow," the first single from Awe, puts these ideas into perspective. Woolworm's minor-chord melancholy is still featured throughout, but the song's uptempo, off-kilter rhythms and general urgency amp up the band's delivery. Even Roy's despondence is countered by some optimism as he sings "I don't need you to be mine / Just to know that you exist is enough."
The bleakness of Deserve to Die has also dissipated thanks to Woolworm's relationship to Canada's music community writ large. The band's malleable sound has allowed them to play recent shows with artists as diverse as country pop crooner Orville Peck and mysterious hardcore legends Integrity, and no one has batted an eye. As a result, Woolworm have connected with audiences and likeminded musicians around the country. 
"Ultimately, I think the album is about other people — trying to relate to someone, sometimes succeeding brilliantly, sometimes failing horrifically. Just the process of connecting with anyone is such a trip," Roy says. "It's so fucked up to have a real person in front of you and know that you're each just hiding in your own mind. You can wind up knowing them pretty well but you will never know what it's like to actually be them. So we're all alone in our own realities, but then we're all constantly trusting each other in so many ways. That can go horribly wrong, but when it goes right, that's the most beautiful thing I can think of."
Overwhelming feelings, lived-in melodies and masterful rock music. It's all more than enough to inspire Awe.