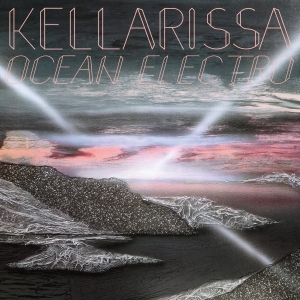 Larissa Loyva first became entangled with Mint Records in 2005 with p:ano, her project with Nicholas Krgovich. Since then, Loyva has had her hand in a boatload of projects including Fake Tears and The Choir Practice, and has served as a touring member of Destroyer and How To Dress Well. Loyva has also released two solo albums on Mint under the name Kellarissa, which is Finnish for "in the basement". Kellarissa returns in 2018 with Ocean Electro, (momentarily eschewing the Finnish language) to propose a new genre which entangles femme psych electronica with driving synth pop. The album is dedicated to the planet's mysterious forces, namely the ocean, in all its metaphorical and natural powers.   
Citing influences as diverse as Vi Subversa, Pulp, Christopher Isherwood, Visage, and an entire poem by Sylvia Plath, Ocean Electro features sophisticated and ethereal vocals that bring to mind synth pop revivalist Molly Nilsson or the West Coast experimental pop of White Poppy. Reflecting the pulsing tides of the heart and pounding mysterious depths of the ocean with its synth loops, adept tempo changes and unexpected hooky chord shifts, Ocean Electro laments the earth's devastation, domestic unrest and violence, along with the pain of unrequited love. Loyva presents eight celebratory proposals for taking care of what we have left. Forget your past, she advises; the concentric movements of the universe will take care of these things. Just keep being here now: "cleaner, freer, less". Stay Wet. We may never completely leave the past behind--the Acid Rain, the whispers across the wires--but we can move into new passages, new terminologies. We can evolve.
While continuing to explore the endless possibilities of using loops to compose, beginning with 2008's Flamingo, and 2011's Moon of Neptune, Ocean Electro adds driving bass and an infectious buoyancy as encapsulated in the record's second track "Black Sea". The chorus regales "I'm covered in love, protest will not be enough, nothing comes from up above", while the outro enumerates bleak prospects for Vancouver's beaches. Ocean Electro effortlessly embodies menace, joy and determination. While dark tides churn, Kellarissa reminds us to stay attuned to the lift to come, for a future less determined by clever men.