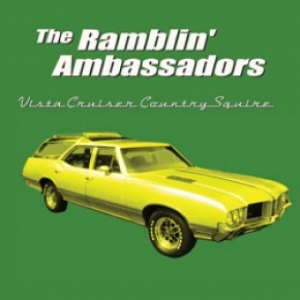 Vista Cruiser Country Squire lands firmly between "Psychobilly Freakout" and "Once Upon a Time In the West." As a release that can boast high-octane originals while making nods to the past through tasty covers of The Surftones, The Bel-Airs, and a re-write of The Sadies' "Rat Creek", Vista Cruiser Country Squire is an album that balances tremolo and twang with groove and grind.
In a genre where clichés and cheesy homages to Dick Dale are abound, The Ramblin' Ambassadors serve up their love for un-ironic vintage sounds with no best-before date. This album feels equally at home in the barroom, at the BBQ, or the beach.
Lead guitarist Brent Cooper, ex of Huevos Rancheros, indulges his passion for all things tremolo and twang as he leads the band through a dozen tracks that could be the soundtrack to any spaghetti Western, beach movie, or '60s gumshoe film noir. - allmusic
With their timeless sound and reverence for classic surf, Calgary's the Ramblin' Ambassadors render these new songs with impressive muscular vigour. - Exclaim!