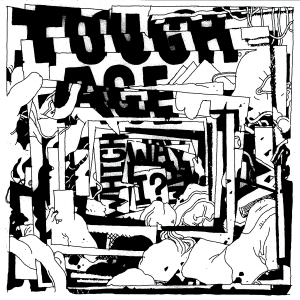 We are sold out of the LP version of this album buy you can still pick it up from our pals at Revolver USA!
Tough Age continue to change shape on their fourth album, Which Way Am I? Drifting into unexplored territories of dreamy guitar workouts while expanding their instrumentation to include flute, synths, and organs, they hit fresh strides on this 11-song set. Cultivating the collaborative approach of their last LP, Shame, this album finds bassist/vocalist Penny Clark contributing lead vocals on three songs with music written by guitarist/vocalist Jarrett Evan Samson. Side one's shorter run-times fight against the current with frenetic agitation, while side two's meditative, melancholy songs welcome death's sweet embrace.
While they originated in Vancouver, Tough Age has since been based in Toronto since 2015 as a trio consisting of Samson, Clark, and drummer Jesse Locke (Simply Saucer, Chandra). Establishing themselves locally while touring across Canada, the U.S. and Japan, they have honed their approach to the point of psychic connection. "The three of us have played so much music together, I think we can just read each other's minds at this point," says Clark.
Which Way Am I? was once again recorded with producer Peter Woodford at his Montreal studio the Bottle Garden (Homeshake, TOPS, Tess Roby) and mixed by Mint veteran Jay Arner. The influence of New Zealand and Australia is still evident, to the point of Clark teasing Samson's obsession with being signed to Flying Nun on the ripping "Penny Current Suppression Ring." Yet Tough Age also introduce new colours into their musical palette, from the hooky Television Personalities punk of "My Life's A Joke & I'm Throwing It Away" to the placid calm of "Repose," with Clark singing in a tone similar to Cate Le Bon before an extended motorik coda.
"Possession" welcomes guest musician Claire Paquet on flute, nodding to the twee-pop of Look Blue Go Purple and pastoral textures of early King Crimson. "Patience of Mind" is perhaps the furthest diversion from Tough Age's original sound, with expansive guitar passages in the tradition of Jim O'Rourke era Sonic Youth. Samson highlights yet another classic American indie-rock band that he credits with the confidence to patiently transform Tough Age's sound.
"Maybe the biggest musical inspiration over the last few albums has been The Feelies," he says. "Not necessarily in terms of songwriting or feel but in how they evolved and changed during the course of their career. Tracing the move from the Ork single to, say, The Good Earth really showed me how you could soften and expand your music without changing the meaning or intent of your art. I'm not going to cover The Beatles though."
Tough Age's sound has come a long way from the buzzy bubblegum garage-rock of their 2013 debut. It's hard to imagine mellower songs like "Repose" or "Patience of Mind" appearing on that album, but they're an impressive testament to the trio's ongoing growth. As Samson explains, he began as a record collector before playing in bands, with a boundless musical mindset that has never left him. 
"I don't think any Tough Age album has truly had a genre it could easily be thrown into, much to our eternal problem of being slotted into categories by everyone who needs to divide up music in such a way," he laughs. "There's nothing more boring to me than when you hear a band and can tell they only listen to the one type of music they make. A band that stands still might as well not exist."      
"Their focus on economy doesn't hamper their creativity; especially for people who like their jangle dirtied up with a bit of grit." - Bandcamp Daily "The way they expand on the 'Pink Frost' form-concept will make any Kiwi fanatic fill a drool cup in appreciation." - The Wire