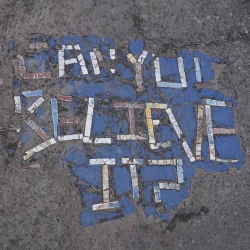 'My life: a slow clap progression, pace rising; to celebrate in the smallest finding - feels right to show admiration that grows,' Mark Grundy begins on "Slow Clap", the first track from Heaven For Real's sophomore full-length Energy Bar, out September 16 on Mint Records.

Formed in 2012, and consisting of songwriter twins Mark and J. Scott Grundy (Quaker Parents) and their frequent collaborators, drummer Nathan Doucet and synth player/percussionist Cher Hann, the Toronto by way of Halifax project has been taking time to shape the follow-up to their 2016 Mint debut, Kill Your Memory. Springboarding from their early 2022 EP, Sweet Rose Green Winter Desk Top Tell This Side Autumn Of The Fighter Hot In A Cool Way, they describe the project as a "living collaboration", one that strives to compress life's truths into a distorted reflection of all of its facets. It's this that drives Energy Bar–a hyper, trash-compacted mosaic of the band ten years in that's simultaneously dreamlike and alive.
Recording the album with Jonas Bonnetta at Port William Sound, H4R aimed to cultivate an electrically charged live energy, which they fuse with rich and playful compositions. Tracks like "Lately" and "Energy Bar" are defined by tireless, wired drums, around which are woven buoyant guitar lines, sounding at times like the weirder shades of bands like Meat Puppets, Prefab Sprout and even early Cate Le Bon. Included too are hints of The Feelies, Mdou Moctar, Built To Spill and Cast; Heaven For Real's approach is an experimental one, yet one unafraid to embrace genre as a tool for expression.
"Slow Clap" introduces the themes of the record; those of winking affirmations, of accepting all the different angles of reality, and of keeping one's eyes open to the tactile physical world (Can You Believe It?). The lyrics here are incisive yet poetic, and you believe them when they opine: "I won't take the grit of confession way lightly." "Do Your Worst" is a meditation on frustration and dishonesty, while "Wait in the Doorway" is an oblique kind of love song. On album highlight "Years In My Mirage", a nervy, subtly-built tension is released into feverish guitar licks, while dissecting  the brutal futility of chasing a preconceived path. 
This is a rare kind of album, capturing with gentle truth the endless streams of wonder and failure that make up the everyday. There's a dense and mysterious world here, with grasps at brief moments of understanding before it all shifts again. They bookend the record with the closing track "Noon Riser": "We are more than all that we confess." "It's hard to admit what you are, and even then you are more than that. And that's hard too; but don't worry."
"Multiple spins reveal a fully functioning universe that becomes increasingly familiar as one's ear-holes begin to acclimate to the pressure changes." - James Christopher Monge, Allmusic
"These folks are creating artsy pop that has some peculiar qualities but is ultimately very listenable and TOTALLY addictive." - Babysue.com

Tracklist:
Slow Clap

Do Your Worst 

Wait In The Doorway 

Energy Bar

Further The Thrill 

Lately 

Underwater Song 

Years In My Mirage 

Take It Away 

Noon Riser 
RIYL: The Feelies, Mdou Moctar, Built To Spill, Cate Le bon 
Publicity
Tom Churchill | Hive Mind PR
churchill@hivemindpr.com
Questions?
Contact info@mintrecs.com 
Pre-orders available on the Mint web store