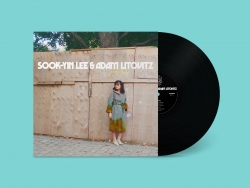 An iconic Canadian media figure, Sook-Yin Lee is an award-winning filmmaker, musician, actor, visual artist and broadcaster who has immersed herself in myriad creative collaborations. Many of them were made with her life partner and frequent co-creator Adam Litovitz, including their 2015 ethereal electroacoustic album jooj. Though Adam passed away in 2019, his work with Sook-Yin lives on with jooj two, an unapologetic dive into playful art-pop and a document of a lost language between lovers. The album will arrive on April 9 via Mint Records. 
(TW: Suicide) While financial difficulties and external pressures contributed to the end of their romantic relationship, Sook-Yin and Adam remained best friends and creative partners. As he was busy with a soundtrack for Netflix, Adam gave Sook-Yin his blessing to continue working on their second album without him. Increasingly, Adam struggled with anxiety and depression, compounded by a prescription drug dependency that exacerbated insomnia and pain. Tragically, he died by suicide on June 16, 2019. 
Adam's passing was a profound loss for Sook-Yin and so many who loved him. Sook-Yin saw pieces of Adam's irrepressible spirit — as well as the story of their relationship — contained within the music they had recorded for jooj two and was determined to share it with the world. With the assistance of mixer Steve Chahley (U.S. Girls, Badge Époque Ensemble, Darlene Shrugg) Sook-Yin completed the album and will share it with the world this spring.
Despite the circumstances surrounding its completion, jooj two is a celebration of life, especially Adam's. Playful experimentalism drives the pair's life-long love of pop music and taps into moments from across the genre's vast history from the warm psychedelic sunshine of "Rumble Like a Stranger" to the neon lit autobahn of "Run Away of Her" and the buzzing euphoria of "Re-Veil." 
There is intentionality and inherent uniqueness to their songwriting approach that first took shape by Sook-Yin responding to a musical phrase with vocal melodies and stream of consciousness lyrics. Those experiments were transcribed and delightfully interpreted by Adam then returned to Sook-Yin for finessing. The resulting wordplay across 11 enigmatic and accessible tracks evokes the feeling of a new language being born.
jooj two is a fitting collaboration to cap off a lifetime of work together.
"... a one woman media arts convergence. One of those truly original people our culture spits out once every generation or so."
  -THE GLOBE AND MAIL