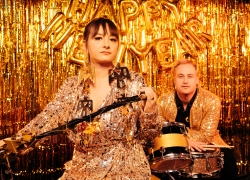 Declaring their resolution to party down in 2023, Miesha & The Spanks are hitting the town with a fresh coat of lipstick, a dapper bolo tie and a vibrant new single, "It's My Year," the first single off their forthcoming album titled Unconditional Love In Hi-Fi. 
Doin' it all for the glam, the Calgary-based duet smashes through the subterfuge of self-doubt like a house of mirrors. A John Hughes movie come to life, Miesha's siren to banshee self-actualization manifests in an array of fervent guitar riffs and the rhythmic method of Sean Hamilton's cardiac-arrest-reversing percussion.
Recorded at the world-renowned National Music Centre (Calgary AB) under the capable ears of producers Daniel Farrant and Paul Rawson, this new single and its accompanying video cast a golden glow of optimism over the future.
Flourishing alongside alt-rock show ponies Wet Leg, Alvvays, Fleshwater, Black Mountain and Yeah Yeah Yeahs, Miesha & The Spanks are set to shatter expectations in 2023. It's a new era, and Joan Jett and Cyndi Lauper are the preeminent deities of divadom. Get primed to unpack your hot pants and freestyle your way through the roaring twenties. The sparkling single, "It's My Year," pops the cork on endless possibilities with sassy, coquettish vocals and a decadent carpe diem vibe.
Shouting out her rebellious philosophy with an impressive hardcore energy, Miesha's mindset clears the calendar with an affirming blast of radio-rock. Flashy dips and double-proof highs swirl in harmony as the pair shimmers and shimmies through every grungy note and impassioned chorus.
Another tantalizing banger that teases more from their forthcoming full-length album, "It's My Year" unveils a provocatively adventurous side of Miesha & The Spanks' anthemic indie rock jams, while breaking out the first scrappy-yet-danceable hit of 2023.
Watch the music video | Stream the song
Words by Christine Leonard