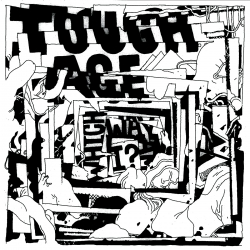 Their new album, Which Way Am I?, is out August 7, 2020 on Mint Records
One of Mint's longest running acts, Tough Age, are back today with the announcement of their 4th album, Which Way Am I?, a great indie rock record inspired by the DIY adventurism of 80's underground labels like Flying Nun and Rough Trade. The band premiered the album's first single today via FLOOD Magazine on which bassist Penny Clark channels Cate Le Bon before the song takes on a meditative motorik coda. 
Tough Age continue to change shape on their new album, Which Way Am I? Drifting into unexplored territories of dreamy guitar workouts while expanding their instrumentation to include flute, synths, and organs, they hit fresh strides. Cultivating the collaborative approach of their last LP, Shame, this album finds bassist/vocalist Penny Clark contributing lead vocals on three songs with music written by guitarist/vocalist Jarrett Evan Samson. Side one's shorter run-times fight against the current with frenetic agitation, while side two's meditative, melancholy songs welcome death's sweet embrace.
While they originated in Vancouver, Tough Age has since been based in Toronto since 2015 as a trio consisting of Samson, Clark, and drummer Jesse Locke (Simply Saucer, Chandra). Establishing themselves locally while touring across Canada, the U.S. and Japan, they have honed their approach to the point of psychic connection. 
Pre-Save Which Way Am I? on Spotify and Apple Music
Which Way Am I? was once again recorded with producer Peter Woodford at his Montreal studio the Bottle Garden (Homeshake, TOPS, Tess Roby) and mixed by Mint veteran Jay Arner. The influence of New Zealand and Australia is still evident, to the point of Clark teasing Samson's obsession with being signed to Flying Nun on the ripping "Penny Current Suppression Ring." Yet Tough Age also introduce new colours into their musical palette, such as the hooky Television Personalities punk of "My Life's A Joke & I'm Throwing It Away" or "Possession" featuring Claire Paquet on flute, nodding to the twee-pop of Look Blue Go Purple and pastoral textures of early King Crimson.