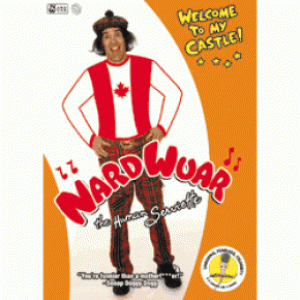 This is a DVD!
Over 5 hours of full-length interviews with Nirvana, Tommy Chong, Sonic Youth, Pierre Elliot Trudeau, Ron Jeremy, and many more. Includes videos of Nardwuar's band, The Evaporators, along with all sorts of bonus material!
Special Features:
* Over 5.5 hours of unboring, fearless, celebrity interviews on two DVDs!
* Nard Raw: A whole disc of stimulating bonus interviews!
* Audio Commentary!
* Videos from Nardwuar's band The Evaporators CD/LP "Gassy Jack and Other Tales"!
* 16 Page Booklet!
* Easter Eggs!
Please Note: This DVD does NOT include *any* music by any of the artists interviewed. As with the previous DVD (the one that this one is a prequel to), there is no music performed by any of the musicians listed—these are interviews about their deepest thoughts and feelings. Still, to satisfy public demand, there's plenty of new tunes on "Gassy Jack and Other Tales" and "Busy Doing Nothing" from Nardwuar's own band, The Evaporators. We know what you like. Doot Doo!