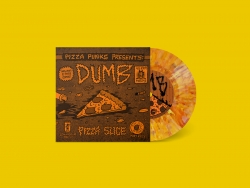 Are you hungry? Mint Records is dishing out our tastiest single since cub's Hot Dog Day! In collaboration with notorious Vancouver comic artist Cole Pauls and Conundrum Press, we've got a 2 for 1 deal lined up that will make your mouth water! To celebrate Cole's new comic collection, Pizza Punks, we've rounded up the savory sounds of two of Vancouver's deluxe punk combos, Dumb and Tough Age!
Dumb delivers "Pizza Slice," a piping hot pie of chopped chords drizzled with their secret sauce of jittery verse and tangy feedback that will melt your mozza and your face. Best served on a Saturday night with your best pals but also life saving the next morning when you wake up late and need something to get you moving!
Tough Age takes you out for a date night to a classy Italian place with checkered tablecloths and a candle stuck in an empty wine bottle. They serve up "Giuseppe Pizzeria" and it's a refreshingly authentic taste of the band's time tested recipe of fresh jangle and creamy vocals, all served on a crisp and swaggering crust. 
Both tracks are presented on a personal sized 7 inch platter pressed on melted mozza yellow vinyl and is available at your finest local licorice pizza parlour or delivered to your door via Mint Records. The record also comes with a bonus 8 page comic book featuring Dumb's XL adventures, illustrated by Cole Pauls, and Risograph printed by Moniker Press. Pre-order is now up and running on mintrecs.com and bandcamp and out everywhere on July 9, 2021.
Cole Pauls is a Tahltan comic artist, illustrator and printmaker hailing from Haines Junction (Yukon Territory) with a BFA in Illustration from Emily Carr University. Residing in Vancouver, Pauls focuses on his two comic series, the first being Pizza Punks: a self contained comic strip about punks eating pizza, the other being Dakwäkãda Warriors. In 2017, Pauls won Broken Pencil Magazine's Best Comic and Best Zine of the Year Award for Dakwäkãda Warriors II. In 2020, Dakwäkãda Warriors won Best Work in an Indigenous Language from the Indigenous Voices Awards and was nominated for the Doug Wright Award categories, The Egghead & The Nipper.