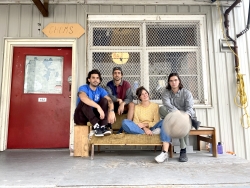 "The Vancouver quartet is restless and ruthless, making rowdy post-punk that questions and analyzes everyday life."  –Stereogum
"Dumb lace their upbeat songs with jagged dissonance to keep things weird." –Exclaim! 
"The sound is the sort of angular-but-melodic new wave that doesn't grow old like punk and hardcore did long ago" –Vancouver Sun
DUMB had a classic start as a DIY outfit back in 2015, playing their first shows in the dining room of a tear-down in east Vancouver. The four band members, Franco Rossino, Shelby Vredik, Pipe Morelli, and Nick Short, were all part of a larger group of friends that jammed and partied together often. Seven years later, the band is set to release their third LP with Mint Records, Pray 4 Tomorrow—self-recorded at Choms, a studio co-owned by Nick Short and Franco Rossino. DUMB has toured extensively in North America and Europe, played with Wolf Parade and Dilly Dally, and are known for their catchy punk rhythms, squealing guitar feedback, and strongly spoken lyrics. 
Over the years DUMB's songwriting has developed, and on Pray 4 Tomorrow their pop sensibilities manage to shine through the dissonant tones and syncopated rhythms borrowed from Yo La Tengo and Devo. Consider "Excuse me", which finds a Beach Boys-esque melody placed gently atop the drop-tuned dissonance of Rossino and Short's duelling guitars, or "Gibberish"—a heavy hitting post-punk bop that culminates in a melodic instrumental piano outro. DUMB is doing their best to balance their noisier tendencies with pretty melodies, in an approach similar to San Francisco's Pardoner. 
Rossino's vocals have matured from abstract rambling towards nuanced commentary, often poking fun at his own self-righteous attitude towards the stress of living in the information age. In "Out of Touch", Rossino yells "I can see you talking but it sounds like simulations, I'm not sure I've got the patience, I'm already full of shit". In "Gibberish" Rossino sings "thank you kindly but I think I'll keep my eyes closed" on wanting to shut out the constant stream of targeted advertising. 
Pray 4 Tomorrow is DUMB's most refined album to date, but also their most eclectic mix of influences. There's something for everyone on the album, with two Specials-influenced Ska interpretations, a couple of folk tunes with vocals from bassist Shelby Vredik, and a series of Minor Threat style B-side rants, all enveloped in the unique post-punk sound that the band has honed over the years.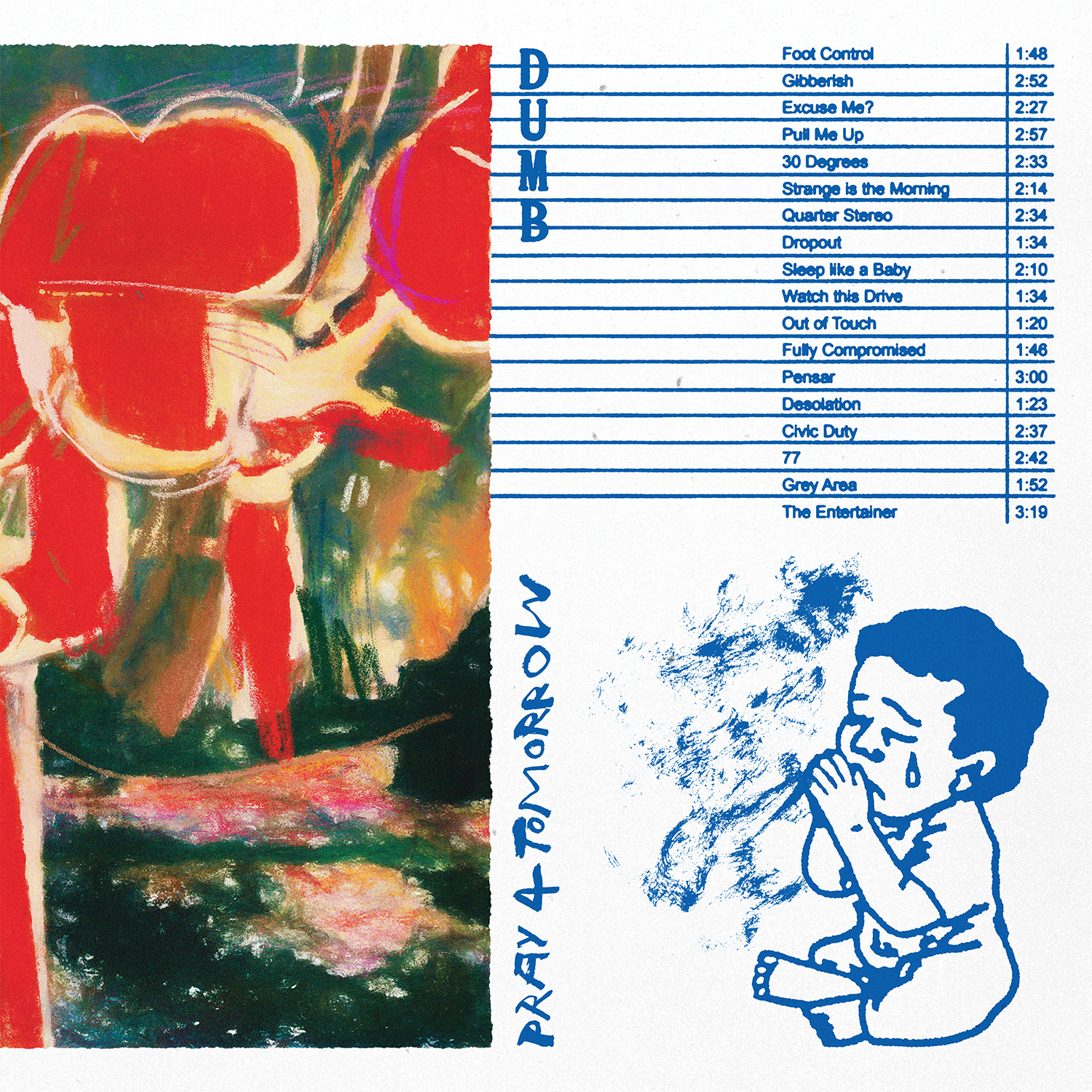 Tracklist
Foot Control 

Gibberish

Excuse Me? 

Pull Me Up

30 Degrees 

Strange is the Morning 

Quarter Stereo 

Dropout

Sleep like a Baby 

Watch this Drive

Out of Touch

Fully Compromised 

Pensar

Desolation 

Civic Duty 

77 

Grey Area 

 The Entertainer
RIYL: Pardoner, Parquet Courts, Fake Fruit, Ought, The Specials, Lithics, Pavement
Pre-orders for Pray 4 Tomorrow are now available on Bandcamp and the Mint web store. Out November 11, 2022.
--
This project is funded in part by FACTOR, the Government of Canada and Canada's private radio broadcasters.

Ce projet est financé en partie par FACTOR, le gouvernement du Canada et les radiodiffuseurs privés du Canada.